Austin Moon

Information
Full Name

Austin Monica Moon

Nickname(s)

"Blondie" (Cassidy)
"Little Prince" (Mom and Dad)
"Awesomus" (by himself in Crybabies & Cologne)

Gender

Male

Date of Birth

1996

Resides in

Miami, FL

Occupation

Singer
Dancer
Musician
Actor (Dez's movies)

School

Marino High School

Family
Parents

Mike Moon
Mimi Moon

Romances

Ally (ex-girlfriend/ still has feelings for)
Cassidy (ex-crush)
Kira Starr (ex-girlfriend)
Brooke (ex-girlfriend)
Kimmy (fictional girlfriend in Freaky Friends & Fiction)

Production
First Episode

"Rockers & Writers"

Portrayed By
Austin Moon is a 17-year old aspiring singer who became a overnight sensation when uploading a video of him singing Double Take, written by Ally and filmed by Dez. His manager is Trish and his best friends are Dez,Ally and Trish. His parents are Mimi Moon and Mike Moon. Austin had always dreamed of being a famous singer/dancer, since he was young and it has always been his life long dream to perform at Times Square on New Year's Eve,which his friends helped him accomplish. He is always there for his loved ones and even though he can get a little naive, he is still a sweet and funny guy. He is portrayed by Ross Lynch.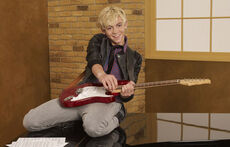 Personality
Edit
Austin is an outgoing, amazingly talented, and somewhat naive person, but he is a really sweet and friendly person. He is so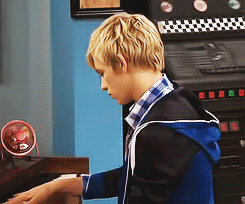 mewhat a musical prodigy and can sing, dance, and play all instruments, yet he has trouble writing songs. Overnight, he becomes an internet sensation by singing one of 
Ally's
 songs in a music video directed by 
Dez
. With the help of his friends, Austin is following his dream of making it in the music business along with Ally. Austin sings the songs that Ally writes for him. He is shown to be a slight airhead, and also seems to love stuffed animals and pancakes. As well as very calm, cool and collected, he is more of a fun and rebellious person, who doesn't care about rules (demonstrated when he colors outside of the lines in a coloring book). He achieves his dream of performing in Time's Square on New Year's Eve in, 
Big Dreams & Big Apples
, thanks to his friends. In Season 2, Austin is bad at making decisions and communcating his feelings, like whether to choose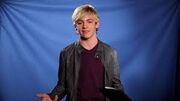 Ally or Kira to be his girlfriend and giving the two girls mixed signals, which causes a love triangle.The same thing happened with 
Cassidy
 in 
Diners & Daters
 where he found it hard to communcate his feelings towards her.
Relationships
Edit
Ally Dawson-  Best and Close Friend/Girlfriend
Trish De La Rosa- Friend/Manager
Dez- Best friend/Video Director
Cassidy- Crush in Diners & Daters
Brooke- Girlfriend in Magazines & Made-up Stuff
Nelson- Friend
Kira Starr- Friend/Plays Austin's girlfriend in the music video for "No Ordinary Day" in the episode "Ferris Wheels & Funky Breath"
Jimmy Starr-Kira Starr's dad and signed Austin to his record label.