Auslly Songs
are songs that are related to austin and ally's relationship and/or what they feel about each other.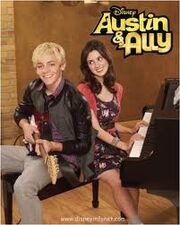 Auslly songs from Austin & Ally
Edit
There are a lot of songs from Austin & Ally that are about them. Here are some:
Not a Love Song - This song is about Austin telling Ally that he loves her but as a friend only.
Edit
Better Together - Even though this song is for his friends, Ally is a part of them so it's saying he is better with her by his side.
Edit
Without You - Same as Better Together.
Edit
It's Me, It's You - It says no matter their differences, they can still hang out and be friends.
Edit
Heartbeat Beating - Although this song is about Cassidy, it describes how Austin secretly feels about Ally.     Heard It On The Radio - Some of the lyrics are quite romantic, and Austin and Ally wrote the song togeth
Edit
=====er                                                                                                                                                                                                                                                                                                                                                      I Think About You-This song reveals that Austin thinks about Ally all the time.=====
Can I Have This Dance by Zac Efron and Vanessa Hudgens - It matches their dance scene in Club Owners & Quinceaneras.
Love Story by Taylor Swift - Some of the lyrics really relate to Auslly.
Crush by David Archuleta - It seems like Austin likes Ally but he won't admit it.
Enchanted by Taylor Swift - They seem like they were both enchanted to meet each other.
Perfect Two by Auburn - They're the perfect two because Ally writes the songs while Austin performs them and they're music partners.
You Belong With Me by Taylor Swift - Ally is the one Austin should be with because they have a whole lot more in common.
Say You Like Me by We The Kings - It shows how Ally's the shy girl that Austin possibly likes.
My Life Would Suck Without You - Kelly Clarkson - Ally can't bear to be without Austin
Possibility - Tiffany Alvord - Ally is in love with Austin and she is wondering if Auslly is a possibility
Boyfriend - Big Time Rush - Austin wants to be Ally's boyfriend
Moves Like Jagger - Maroon 5 - Austin is always trying to impress Ally with his dance moves
Waiting Outside The Lines - Greyson Chance - Austin wants Ally to overcome her stage fright
Got Me Good - Cody Simpson - Austin is in love with Ally. This song fits Austin perfectly because "What's up" is often said in the song, which is Austin's catchphrase
On My Mind - Cody Simpson - Austin can't stop thinking about Ally
Boyfriend - Justin Bieber - If Austin was Ally's boyfriend, he'd never let her go
Girlfriend - Avril Lavigne - Ally doesn't like Austin and Cassidy as a couple because she is in love with Austin
Beautiful Soul - Jesse McCartney - Ally is the only one who Austin wants to be with
Fall by Justin Bieber - Both Austin and Ally think that dating will damage their friendship, but Austin wants Ally to fall for him
Call Me Maybe - That song Ally reveals her feelings for Austin.
My Girl - The Temptations - Austin thinks of Ally as his girl, but Ally may not know it.
Nobody Compares - One Direction The lyrics "No one ever looked so good in a dress and it hurts cause i know you wont be mine tonight" Match Austins jealousy about Ally and Elliot in Campers&Complications
Paralyzed  - Big Time Rush -  Everytime Austin sees Ally he gets Paralyzed
Worldwide Big Time Rush  - Austin will be thinking about Ally and he will  have her heart
Any Kind of Guy Big Time Rush Austin will be  any kind of guy
Had me at hello -Luke Benward/Olivia Holt
Best Friend by Jason Chen - Austin falls for Ally