This episode is on how Austin and Ally get invited to a party, and both show up. This romantic episode is on how they both attend and try to get eachother jealous, and Ally is then secretly kidnapped. Austin, Trish, and Dez manage to track her down and save her from near death. Romance slowly sparks up.

This is my version of Successes and Setbacks. I hope you like it!
Austin got his record deal after he performed live.
"Thank you Jimmy!" Austin shakes hands with Jimmy. " I'm going to get a record deal!
What Up!" (hand shake with Dez) Trish claps. "Congrats, Austin!" Austin and Ally hug.
" Not so fast, young man." Austin's mom says. "What do you mean?" asked Austin, his smile
fading. " We mean, say no to the record deal." "Wait! Why?" Austin asked. "You're too young. And we want
you to work at the matress store." "But singing is my life, and i finally got it." "Were sorry, but we have our minds
set." Said Austins mom. "But-" "No buts."
Austin runs out of the room. " Austin!" Ally calls. "Mr. and Mrs. Moon, Austin is ready. I can't be more sure of
anything. He's worked really hard, and almost lost his voice. I couldn't be proud of him more. Back away from
your mattresses for a second and look at what Austin wants. He deserves this. I want this for him just as much as
he does. He's helped me, too. So please believe he's ready. I'd give anything to see him get his dream. (Parents
leave) " Ally, that was amazing!" Says Trish. "You've never done that before!" " I know, and I can't believe I did it,
either. I just hope it works.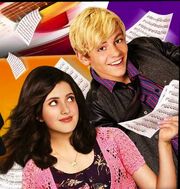 The Next Day
" Austin, did you call Jimmy Starr yet?" Asked Austin's mom. " No, I was going to have Trish do it." "Huh?"
Trish looked up from her magazine. "But it looks like I'll have to do it. " He pulled out his cell phone. " Wait, Austin, don't dial the phone. We'll let you have the record deal." "Really? YES!" Said Austin, giving them both a small hug. " Thank you so much!" "Oh, don't thank us, Ally changed our minds." Austin ran over to Ally. " For real?" "Yep." "Thank you! I love you!" Giving Ally a hug. "Really? I love you too," "well why didn't you tell me?"
" Because the last time you thought I liked you , you totally FREAKED OUT." "Ally, that was forever ago. I barely knew you at all. But I know you now, as the best thing that ever happened to me." (slowly drawing Ally in) " You
used to drive me crazy, and I love you now." Austin laughed and they kissed. Every one looked shocked.
The End
Please tell me what you think. I'm sorry it's so long. Iluvauslly (talk) 20:55, October 4, 2012 (UTC)Maddiebug AKA Iluvauslly !!!!!!!!!!!!!!!!!!!!!!!! I love austin and ally :)